deutsche Version

Cuckoo´s Medical & Zen Seminar Goa 2005
Content introduction - Class introduction - Zen Master Cuckoo - Dr. Pan Nien Chung - Certificate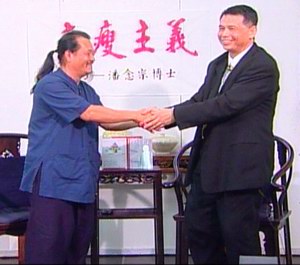 This year will be a very special year.
After many years Cuckoo has agreed to continue his medical classes and his famous Zen discourses in a one month intensive seminar.
Cuckoo has invited the world famous nobel prize nominated Dr. Pan Nien Chung to come and lecture you about cutting edge eastern and western medicine and to give treatment to you. On completion of the seminar you will get a certificate of participation proving your deeper understanding of the human body. This is a chance not only for the sick, but for everyone to improve his or her physical health. Don´t miss this one of a lifetime chance to meet the No. 1 Naturopathic Doctor and a real Zenmaster giving you one on one treatment and deep insight into the mechanisms of body and mind, while you are enjoying Goa´s great beaches, a beautiful ocean and tasty food at very low living costs.
19.11.2004 Important change: The participation fee has been reduced on your behalf by removing some expensive items from the blood test. The fee is 950 Euros now.

During the one month seminar you will:
use your own body and personal illnesses as the teaching material

receive personal treatment from Dr. Pan and Dr. Cuckoo

learn about the 6 killers in your everyday life

learn how to really reduce overweight in a healthy and quick way

learn to acupuncture yourself and others in need on at least 42 points

get a deep understanding of the Meridian system

learn cutting edge eastern and western medicine in a complementary way

learn special Meridian Qi Gong exercises and the foundations of Tai Chi to improve and understand your health

get a full blood analysis

understand how to adjust your nutrition according to your blood type

get one on one meetings with Cuckoo and Dr. Pan

understand yourself deeper with the help of Zen master Cuckoo

see the relation between your sickness and your mind

proof the teachings by feeling your physical health improve during the time of the seminar

get answers to many health related questions that are plaguing us today

receive a certificate that prooves your new skills
Besides this you will enjoy sandy beaches, sunshine and beautiful sunsets over the Indian ocean. Goa is famous for offering a natural and enjoyable lifestyle at low living costs.
The well known Cuckoo Zen Garden Restaurant will satisfy you with a wide variety of healthy and tasty organic food.
Classes will be 3 times a week from 9.00 to 12.00 AM.
Provided teaching material will include:
Minerals to enhance and repair the function of the nervous system and Meridians

Meridian-Solution to bridge and strengthen broken meridian lines

personal treatment

a personal blood analysis

classmaterial

needles
Special medicines for personal sicknesses that might get diagnosed and treatet during the semiar are not included in the seminar charge.

Classes will cover:
1) The basics of eastern medicine:
ying and yang

the 14 Meridians

the connection between nature and your body

basic diagnosis

acupuncture & moxibustion

locating of accupoints

the 3 most useful accupoints on each Meridian channel

application of needles and moxibustion

your personal accupoints
2) New cutting edge western medicine:
"The 6 killers in

today's

time"
how your blood type relates to nutrition and character

antibiotics and "good" bacteria

how your intestinal bacteria relate to the whole body health

what cancer really is and how to never catch it

0 state cancer diagnosis without palpation

how AIDS and so called "non-curable" sicknesses develop

special meridian Qi Gong exercises and the foundations of Tai Chi

Zen

and much more...
At the end of the seminar all participants will receive an official certificate from Dr. Cuckoo & Dr. Pan.
Cuckoo is known and loved as a Crazy Zen Master. Born in the high mountains of Taiwan, he is a world specialist in acupuncture and in ancient Chinese natural medicines.
He has a very profound knowledge of the Human condition, and is deeply connected to Nature. He enjoys life and the beauty there is in every ordinary moment.
Hundreds of people from all over the world come to sit with him to receive his healing guidance. His teaching brings one back to the self and to the here and now of one's being.
1997 - 2004 Each year Zen master Cuckoo toured the western world, giving Zen meetings and holistic treatment to people in America, Canada, the Netherlands, Germany, Russia, Greece, France, Italy, Spain and Norway
1995 - 2004 Zen master Cuckoo gave holistic healing of body and mind of more than 10.000 people in his clinic in Goa, India
1983 - 2004 Zen master Cuckoo gave real holistic healing of body and mind to more than 30.000 people around the world
1994 Dr. Cuckoo "went crazy" and understood that our mind is the real source of all our problems
1988 Dr. Cuckoo and Dr. Pan gave the Korean Olympic Games medical speech on using eastern medicine to cure Hepatitis B"
1983 Dr. Cuckoo founded the "Taiwan healing herbs" factory and research center with more than 2000 natural medicines
1981 Cuckoo learned acupuncture from Dr. Huang Min Der
Full title: M.D. / Ph.D. / Dsc. / F.I.C.A.E. Say Fone Phounsavan (Pan Nien Chung)
Dr. Pan Nien Chung was born in Laos. Today he is doing most of his research in Taiwan and America. He is highly respected for his deep medical insight in countries all around the world. Many health organizations would like to cooperate with Dr. Pan. His unique non-invading method to detect breast cancer at 0 state with almost 100% accuracy and without palpation, harm or pain earned him a nomination for the nobel prize. His procedure has since overturned the traditional theories and is considered a major breakthrough in medical science. He has given dozens of speeches all around the world on other ground breaking topics such as the treatment of AIDS and Hepatitis B with herbal natural medicine.
Director, Hepatitis B Group, National Research Institute of Chinese Medicine, Taipei, Taiwan, R.O.C.

Chosen for Nobel prize due to his invention of non-invading method to detect 0 state breast cancer

No. 1 speech at the 4th World Conference on Acupuncture which was held by the WHO titled:" The study of the relationship between Eastern Medicine and modern western medicine."

Consultant, AIDS Research Group, Dramaraksaniwesana Project, Bangkok, Thailand

Consultant, Breast Cancer Research Group, Department of Health, Lao P.D.R.

Academy instructor at the American L.A. Board of Chinese medicine

Research member of the New York Columbia F.I.C.A.E

Consultant of the New York S.A.R.S Scientific Cooperation

Donator of the Library at Bastyr University, Seattle, U.S.A

Canadian Acupuncture Association coordinator

United Nations medical emergency coordinator



LivingZen - 20.10.2004