deutsche Version

Cuckoo´s Medical & Zen Seminar Goa 2012
A true combination of knowledge, practice and experience
"It is better to be your own healer than to look for a doctor.
It is better to try and cure yourself than to rely on others.
People with self-awareness learn to take care of themselves and then use this wisdom to help others.
Learn thoroughly the wisdom of your body…"
Cuckoo
Content introduction - Class introduction - Zen Master Cuckoo - Dr. Chen - Certificate - Register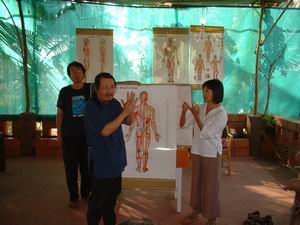 This year Cuckoo has agreed to continue his medical classes in a one month intensive seminar.
Cuckoo has invited the detoxificaton specialist – Professor Chen to come and lecture you about cutting edge eastern and western medicine detoxification.
On completion of the seminar you will get a certificate of participation proving your deeper understanding of the human body. This is a chance not only for the sick, but for everyone to improve his or her physical health.
Don´t miss this one of a lifetime chance to meet a No. 1 Naturopathic detoxification scientist and the world known acupuncture therapist and Zenmaster Cuckoo to help you treat yourself and gain deep insight into the mechanisms of body and mind, while you are enjoying Goa´s great beaches, a beautiful ocean and tasty lunches (which are included).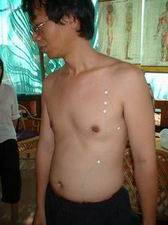 Cuckoo, who has been traveling all over the world for more than 20 years, has healed more than 500,000 patients with his Zen acupuncture. His ability to see through people's hearts and his charming, yet crazy character have been winning him friends from all walks of lives on this planet. How he cures people's diseases, hearts and minds is still a mystery …
This isn't a course that will only teach knowledge and skills. Cuckoo is going to pass his 20 years of clinical experience to the participants. He is able to see through different races for their particular sicknesses and formulate treatments accordingly. He is going to shake your minds in a humorous, natural and wise way with his Zen TCM teaching.
Cuckoo will not only teach basic knowledge of the meridians, but will also teach you personal meridian exercises. He will teach daily diet and the five elements as well. He will also teach basic acupuncture points for treatments, but will also teach disease prevention measures.
He will share with you basic cupping skills as well as cures for the common diseases. Finally, he will teach basic Ying Yang theory as well as its applications in daily life.
Besides this you will enjoy sandy beaches, sunshine and beautiful sunsets over the Indian ocean. Goa is famous for offering a natural and enjoyable lifestyle at low living costs.
The well known Cuckoo Zen Garden Restaurant will satisfy you with a wide variety of healthy and tasty organic food.
Download Application Form Here Now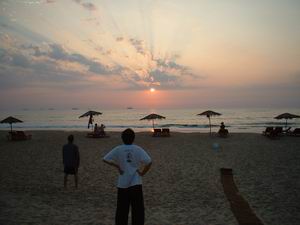 Location: Candolim, Goa, India.
Schedule: 14 January~ 5 February 2012 (classes will be held on the 14th, 15th, 21st, 22nd, 28th, 29th of January and 4th, 5th of February)
Class hours:
Every Saturday and Sunday from 09:00am~12:00am for 4 weeks (a total of 8 days)
Complimentary lesson: on the first weekend we will have a special guest speaker from Taiwan – Professor Chen, who is specialist in detoxification for 15 years in this field, he used to work in American national detoxification institution and help many sick people. After his detoxification suggestion, they win back a healthy body and know how to keep doctor away with a healthy diet. Professor Chen will give a lecture on some measures, including oil pulling, chewing, dental revision, detox dharma, etc., for health promotion.
Clinical practice schedule:
Participants will conduct clinical practice twice in Cuckoo's clinic with patients.
(Clinic hours: Every Monday, Wednesday, and Friday 9:30am~13:30am – reservation is needed for the clinic hours)
Detoxification Schedule:
The best way to truly acquire your knowledge and clinical skills is to experience it yourself on a first hand basis. Therefore, after first two weeks of acupuncture lessons, we will do a five-day detoxification with self acupuncture to immerse in what you've learned and to heart-feel what your patients will experience.
1. Before detoxification, Cuckoo will give every participant a personal diagnosis to outline one's body weakness.
2. Then, according to personal conditions, every one will have five days of herbal detox and dietary therapy. The costs of detox herbs and body-typing meals for these five days are included in the course fees.
Meanwhile, one's self-acupuncture will be personally guided by Cuckoo.
Target groups:
1. Those who wish to know more about the body.
2. Those who wish to deeply connect with their body and mind.
3. Those who wish to learn self-healing.
4. Those who wish to live in a natural healing way.
Study Contents:
1. Basic knowledge of the meridians
2. Basic knowledge of acupuncture points
3. Basic knowledge of Cupping
4. Traditional Chinese medical philosophy: Ying & Yang, the five elements, and the basic theory of internal organs
5. The interconnecting wisdom of TCM and nature.
6. The secrets of body's natural healing power
Study Goal:
Through learning TCM,
1. To be able to connect deeply with the body and mind
2. To be one's own doctor and be able to heal simple sicknesses
3. To insert acupuncture needles into oneself
4. To be able to apply emergency First-Aid for yourself and your family members
5. To learn regular detoxification measures
Tuition: 1,200 Euro/per person
Including:
1. Textbook
2. One cupping set & a skin-puncturing pen
3. One bottle of Cuckoo's homemade treatment herbal cream
4. 200 acupuncture needles
5. Homemade lunch after every class
6. Detox herbs and detox meals during 5 days of cleansing
Certification: Students who complete the whole course will get a certificate from Cuckoo Zen TCM & Acupuncture School with Cuckoo's personal signature and stamp.
Classes are limited to 20 students.
Registration:
1. Until the 30th of November.
2. Early bird discount: Register before November 15th for 1,000 Euro.
3. Fill up the following form and email to cuckoozen@hotmail.com. (You will get an acceptance mail and Remittance bank details)
Download Application Form Here Now
Cuckoo is known and loved as a Crazy Zen Master. Born in the high mountains of Taiwan, he is a world specialist in acupuncture and in ancient Chinese natural medicines.
He has a very profound knowledge of the Human condition, and is deeply connected to Nature. He enjoys life and the beauty there is in every ordinary moment.
Hundreds of people from all over the world come to sit with him to receive his healing guidance. His teaching brings one back to the self and to the here and now of one's being.
2005 – 2007 Cuckoo ist staatlicher Ausbilder neuer chinesischer Ärzte in Taiwan. In seinem kleinen Hospital in Goa werden 4 x die Woche pro Tag 50-70 Patienten aus der ganzen Welt behandelt. Darunter viele aus den westlichen Industrieländern (Europa, USA, Russland, usw.).
1997 - 2004 Each year Zen master Cuckoo toured the western world, giving Zen meetings and holistic treatment to people in America, Canada, the Netherlands, Germany, Russia, Greece, France, Italy, Spain and Norway
1995 - 2004 Zen master Cuckoo gave holistic healing of body and mind of more than 10.000 people in his clinic in Goa, India

1983 - 2004 Zen master Cuckoo gave real holistic healing of body and mind to more than 30.000 people around the world

1994 Dr. Cuckoo "went crazy" and understood that our mind is the real source of all our problems

1988 Dr. Cuckoo and Dr. Pan gave the Korean Olympic Games medical speech on using eastern medicine to cure Hepatitis B"

1983 Dr. Cuckoo founded the "Taiwan healing herbs" factory and research center with more than 2000 natural medicines

1981 Cuckoo learned acupuncture from Dr. Huang Min Der
Download Application Form Here Now
Save 20% now by applying before Nov. 15th 2011
LivingZen - 27.10.2011